Mirando Bok är ett litet, oberoende förlag inriktat på bilderböcker. Betydelsen av förlagets namn är tittande/att se. Ordet kan också betyda att undra eller att förundras. Just så ser målsättningen med Mirandos utgivning ut; visuellt kittlande böcker att undra och förundras över, berättelser som väcker nyfikenhet och frågor.
Mirando ger ut både översatta och originalproducerade bilderböcker.
Förlaget startade hösten 2013 av Jenny Franke.

*
Mirando Book is a small, independant publishing company focusing on picture books. Mirando means to look/to see. The word can also mean to wonder or to marvel. The different interpretations of our name could describe our aim; to publish visually tantalizing books to wonder and marvel about, stories that awakens both curiosity and questions. Mirando Bok publish picture books translated into Swedish as wel as picture books produced in close connection with different writers and illustrators.

---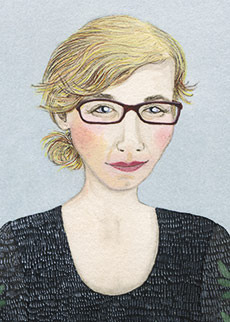 »Det fina med bilderböcker är att de förenar flera olika uttryckssätt; bilder, text, formgivning, ljud, rörelser… Och att det händer något alldeles speciellt när uttryckssätten samverkar; nya betydelser och mer sammansatta budskap uppstår.
I mer än tio år har jag jobbat på olika sätt med både visuella uttryck (bokformgivning, typografi, bilder) och med texter (redaktörsuppdrag). Nu satsar jag på att förena de olika erfarenheterna för att ge ut förunderliga bilderböcker!«
Jenny Franke Wikberg, december 2013.
Illustration av Anna Emilia Laitinen